IsoCubeSim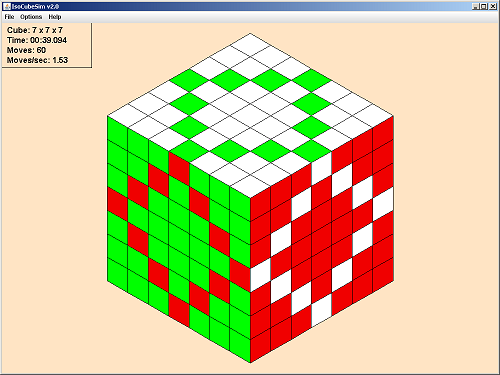 IsoCubeSim is my cuboid (LxMxN) simulator, with a few variations which do other things. It was specifically designed to be used for computer speedcubing - before the era of more complex keyboard-controlled cube sims, many of the world speed records were set on this program. In fact, many of the overall records for very large cubes are still on this sim. IsoCubeSim and IsoSupercubeSim have the following features (the others are a bit older):
Play with any size cube or cuboid from 1x1x2 to 100x100x100 and bigger - use +/- to change the size of each axis, or set any size you like in the menu.
Save and load solves in progress.
Click and drag a sticker to do a move, but unlike some other simulators, Iso will detect even very small drags.
Efficient control system with details in game.
Zoom in and out, and move around while zoomed.
IsoCubeSim is distributed as a self-executable .jar file. You should be able to run it like an application, if you have Java installed. Because a certain browser doesn't handle .jar files correctly, I've included each one in a .zip file. Here are the versions available for download:
Changelog:
v2.2 - Remapped multi-slice hotkey to Caps Lock. Added ability to set color scheme by modifying a text file. Added an indicator to keep track of half-turn scrambles, including in the save file. Also, brought IsoSupercubeSim fully up to speed.
v2.1 - Added partial zooming with the alt key. Added a key to toggle multi-slice mode.
v2.0 - Massively lowered CPU usage. Added an explanation of the controls in-game. Added faster movement with Ctrl + arrow keys.